Fast Times
Why do we race? Why are we driven to take up this sport? What is the impetus behind our desire to seek our own "fast times"? For many of us the idea may have been born when we first saw a Formula One car close up. A beautiful, jet black UOP Shadow, perhaps, in the Kendall Garage at Watkins Glen. Or perhaps when we watched Graham Hill or Jackie Stewart or Chris Amon going 180 mile per hour up the main straight there in their sleek machines, engines singing, making that rare and very special sound.
Ken Purdy, the great writer who offered so many keen observations about motor racing, may have said it best: "If the game is dangerous why does anyone play it? Because it's the most compelling, delightful, sensuously rewarding game in the world." Racing is a supreme adventure, a magnificent obsession. Those of us who take it up at the amateur level, embracing it and pouring so much of ourselves into it are, in essence, joining the racing universe populated by the likes of Mario Andretti, Gilles Villeneuve, Jim Hall, Jim Clark, Briggs Cunningham, Dan Gurney, Richie Ginther, Masten Gregory and......Max Balchowsky!
| | |
| --- | --- |
| The UOP Shadow Formula 1 team was masterminded by American Don Nichols and ran cars designed by Tony Southgate. The team's cars achieved modest success on the GP circuit but their elegant shape and fine level of finish were much admired. George Follmer took Championship points at the 1973 South African GP in his first F1 race! Shadow faded from the F1 scene not long after Peter Revson died testing one. | |
"When you are racing and everything is working properly, it's like another world. It feels like you are being guided down a corridor by some other force. I don't really see the car. I'm going very fast, there's lots of noise and I can feel the cornering and acceleration forces rising and falling. But there's no conscious effort involved, it's as if I were the car, just part of a machine. And that's the sensation in racing that is so thrilling to me."
Mark Donohue
Jackie Stewart, Matra-Ford
"For the sport's participant, it is an experience of the constant dialectic of restraint and release, the repeated interplay of energy and order, of improvisation and obligation, of strategy and tactic, all neatness denied and ambiguity affirmed by the power of the random, by accident or luck, by vagaries of weather, by mental lapses or physical failure, by flaw in field or equipment, by laws of physics, by error in all its multiplicity."
Bart Giamatti in "Take Time for Paradise"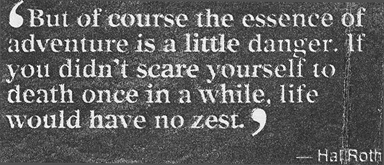 "As a result of physical forces, speed registers in our muscles, our eyes, and our brains, creating a generalized physical excitement as emotion and exhilaration. We have the sense that we are generating the speed, even creating it at will."
paraphrase of text by Lesley Hazelton in "Confessions of a Fast Woman"

Chris Amon, Ferrari 312
"When you're racing, you go past a certain place in the world and in yourself. It's like traveling into new territory, some unexplored land, so sensational and crisp. Everything is felt more sharply, more intimately and at a smoother, more supple pace. Even when things are happening fast, there is a slowed down or timeless quality to the experience."
paraphrase of a quote by Rick Bass
"I figured how a man felt about his adventures was the ultimate test of his reason for being."
Smokey Yunick
 
"It is the moment of risk that makes the rest of life bearable."
Masten Gregory

"How many times did I hear Masten describe driving the Nurburgring, through the mountains, around hairpin turns, nothing but the sky beyond and no visual contact with the earth? The beauty, the precision of speed, the keen use of all his faculties - working together as a team - car and driver inseparable."
Nancy Gregory (Masten Gregory's mother)
Graham Hill, Lotus-Ford
What's it like out there?
"What's it like, racing? Oh, god, it's the greatest! It's about guiding a fast and beautiful machine along a ribbon of road - straights, curves, hills, valleys....creating and blending movement and speed. And while doing so, running on the limit, the hairy edge, teasing the car to perform on corners at just short of its ultimate limits - all by virtue of your own feeling of forces. The whole time, the cars of your competitors are in front, beside and behind, darting and weaving, looking for an advantage. The experience is yours to make and control. The speed, the rush of the air, the noise! It's all so incredibly thrilling. But at the same time, there is a special sort of internal 'quiet' and solitude. And after a while, you reach a new level. Conscious actions all but vanish and everything happens without so much as a single conscious thought. It's just glorious. It's the most exuberant experience a man can have!"
George Cosgrove
"[Motor racing] offers a very special delight, a unique amalgam of rigour and exuberance, the paradox of detachment from the world and yet intimate engagement with it. The only comparable activity is piloting a small, nimble, open cockpit aircraft at a low altitude."
Denis Jenkinson

 
The great Swiss Formula One ace Jo Siffert