Frame-up Chassis Rebuilding
You bought a well used Formula Ford. Now what to do? If the car looks a little tired, a frame-up rebuild may be called for. How else to make sure everything is the way it should be? A complete rebuild is a chance to check every component, every single fastener, every plumbing line. A typical open wheel race car can be disassembled in a few days' time. But keep in mind that it is during a careful disassembly process that the condition of every part can be determined, degree of wear can be measured, cracks can be found and unsatisfactory assemblies can be analyzed so new configurations can be planned.
Develop a plan, make up a note book and load a new chip in the digital camera because you'll want to record every part to facilitate reassembly. Over time, changes can creep into every race car and while disassembling it, you will undoubtedly find things that can be improved, other things that can be returned to their proper, original state or components that just plain need to be replaced. The condition of every wire, every hose, every bolt must be reviewed. Likewise some rod ends and spherical bearings will be found to be over their wear limit and each one should be carefully looked at. Maybe the seating position needs work to make it right to improve your own comfort and to increase its safety.
| | |
| --- | --- |
| Stripping the chassis itself may reveal cracks or bent members or, at worst, a tweaked chassis which would make alignment difficult. Here's an Alexis chassis stripped down and sand blasted ready for a complete inspection. Brazing, the typical form of "welding" at the time, is clearly visible. | |
A checklist for a frame-up rebuild can be found below and a great source of information is Carroll Smith's first and most valuable book, PREPARE TO WIN, which is chock full of insights into the whole process of preparing a car for the track. (See: Buying a Used Formula Ford)
Rebuild: Lola 342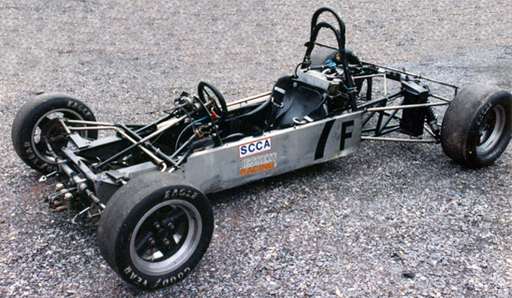 This Lola 342 chassis, built by Eric Broadley's company in 1976, is about to undergo a complete frame-up rebuild. As step one, the bodywork, engine and transmission have been removed and before long, every single component and every fastener will be removed, inspected, cleaned and refurbished. The design which was distinguished by the use of sheet metal for the upper rails which helped it achieve a remarkably low total weight of about 80 pounds. (Interestingly, Chapman's 1957 Vanwall F1 chassis weighed 90 pounds and the Maserati Birdcage chassis was 66 pounds!) These cars were known as "flexi-fliers" because the chassis was designed to flex and, in essense, act as a "fifth spring". In the US, many of them were stengthened by the introduction of longitudinal tubes or continuous metal closures on the underside of the open top rails and the introduction of a number of other supplementary chassis tubes and gussets. As part of this modification, the spring rates were reduced significantly. Both versions won a lot of races through about 1981 when the car was eclipsed by newer design from Crossle and VanDiemen. As a classic of their era, the Lola 342 is a much sought after car.
| | |
| --- | --- |
| BEFORE A well-worn Lola 342 rolling chassis at least five years from its last major rebuild. Everything seems to be original and no significant parts are missing. At first look, there appears to be no crash damage but it will take a closer inspection to confirm that. | |
| AFTER This is the same chassis a month later. The car was completely disassembled and the chassis was glass-bead cleaned and crack checked; floor pan was removed. Where small cracks were found they were carefully repaired by brazing. A few steel gussets were added, a new steel belly pan was epoxy glued and riveted in place and the chassis has been repainted. | |
| All the suspension components were rebuilt using Carroll Smith's PREPARE TO WIN as a guide. Trailing arms and A--frames were stripped and nickel plates. New rod ends, wheel bearings and AN bolts, washers and nylocks were installed; unplated pieces were re-painted. Here the complete suspension is shown fitted to the completed chassis. The bodywork has been stripped, repaired, refinished and primed before being refitted to the chassis. | |